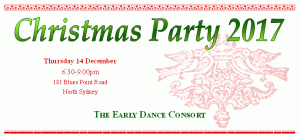 Our evening classes for 2017 will conclude with a Christmas Party  on Thursday 14 December, 6.30-9.00pm, at the usual class venue, 181 Blues Point Road, North Sydney.
All welcome – students past, present and future (no ghosts!) and friends – to come and join us to celebrate another year of early dancing and mark the festive season in good company, with a little food & drink, conversation and dancing.
Attire: Festive, with dance shoes.  As usual, please bring a plate of simple finger food or something non-alcoholic drink-wise to share. Cups and plates supplied.
Hope to see you there.
Best wishes,
Fiona & John.